The Snowager
What is the Snowager?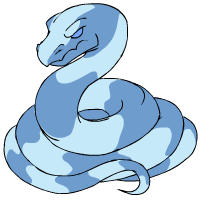 The
Snowager
is a giant ice-dragon-snake-thing that closely resembles the Snowickle petpet. The Snowager can be found in
Ice Caves
of
Terror Mountain
. The majority of the year, he is asleep for three different hour long time frames a day:
9:00am-10:00am NST, 2:00pm-3:00pm NST, and 5:00pm-6:00pm NST
. Visiting him during these time frames gives you a chance to collect a prize from the giant pile of treasure that the beast hordes while he is asleep. You can read about the Snowager Lore at the
Neopedia: The Snowager
article.
Since this is a site feature that gives out neopoint rewards and prizes, you may
not
visit the Snowager on your side accounts. For more information look at our
side accounts guide
.
Visiting the Snowager
You can only attempt to steal a piece of treasure from the Snowager
once per day
. If you try visiting again after you have already bothered the sleeping Snowager, you will get a message asking you to come back another day.
The snowager is asleep from
9:00am-10:00am NST, 2:00pm-3:00pm NST, or 5:00pm-6:00pm NST
. If you are lucky, you will be able to take a piece of treasure with you.
During the month of
December
the Snowager is hibernating, meaning he will be fast asleep; this means you can steal a piece of treasure from him once daily anytime of day. No luck needed: a piece of treasure is a given during December!
The Snowager

You carefully walk in and pick up a plush toy from the pile of treasure!


Yellow Buzz Plushie
Sometimes you will not be able to take treasure with you, even if he was asleep when you visited. You may instead get a message that tells you to come back later, or a message saying you awoke the Snowager while trying to steal a piece of treasure. There is a possibility the Snowager may blast you instead.
If this happens, your Neopets will have their HP reduced to 1HP. You also have a chance to get the Snowager avatar and may get the Snowager as a
Battledome Challenger
.
The Snowager


ROOOOAARRR!!! - The Snowager rears up and fires an icy blast at you and your neopets!!!

If you visit when the snowager is awake, you will be told to come back another time.
The Snowager



The Snowager is awake!!! You better run before it eats you!!!
(maybe you should come back when it is sleeping)

Prizes
If you manage to visit the Snowager while he's sleeping, you may be lucky enough to take a piece of treasure with you. This treasure could be a number of things.
There are even some exclusive prizes you can get. These are only obtainable from The Snowager.
Avatar
There is a random avatar you can receive when visiting the Snowager; it is only given when the Snowager blasts you during your visit.

Snowager - RAWR!
Get blasted by the Snowager. Getting this avatar is random, it might take a lot of tries before you get this avatar. The snowager is asleep from 2PM - 3PM NST, 10PM - 11PM NST, & 6AM - 7AM NST.
Rawr!
neoHTML
SIGGY HERE
neoHTML
siggy