April 2019 News Archive
This is an archive of all of our older news that we have removed from the front page of the site.
[
2006
|
2007
|
2008
|
2009
|
2010
|
2011
|
2012
|
2013
|
2014
|
2015
|
2016
|
2017
|
2018
|
2019
]
[
Jan
|
Feb
|
Mar
|
Apr
]
A new bunch of Dyeworks has been released, all themed for spring! We have updated our Dyeworks guide with these new items.
All those pretty pastel colours!
We too have updated our Wearables Headquarters with these new items as well as all the new Festval of Neggs prizes (both from the regular and the NC part of the event). And the new Seekers MME has morphed for the first time, so our MME guide has been updated too.
---
Also, a huge thanks to all the people who help keeping our database up to date by modelling their wearables. You guys are amazing and did a great job over the last few weeks! We love you!

Here, have a Moehug!

Want to see if you can help us with modelling too? Head over to our Modelling page and see what previews we are still missing. Right now, we are especially looking for:
Many Paint Brush wearables
Many recently released single species wearables
NC Wearables that were released later last year (Fall, Halloween, Christmas)
Any help you can give us is greatly appreciated!
Ready to add some pep in your step this spring? Well step on up and check out this new userlookup!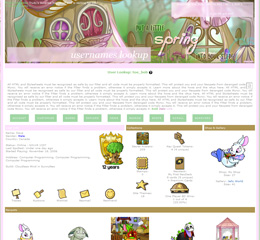 PS, hello friends! My name is Riah (aka Ray or Space Lizard ) and I've joined the SN team to help bring you all sorts of nifty layouts. We hope you enjoy everything we have to offer, and don't forget our graphic request form to let us know what it is you would like to see. Cheers for spring and here's to many more awesome layouts!

Let's hope nobody steps on me though!
The Festival of Neggs has returned and so has Topsi! Follow the clues to find the hidden Neggs.

Our Festival of Neggs guide is up and ready. If you need help finding the first Negg, the Topsi image below will take you there. If you get any prizes not listed, please Contact Us.
[
2006
|
2007
|
2008
|
2009
|
2010
|
2011
|
2012
|
2013
|
2014
|
2015
|
2016
|
2017
|
2018
|
2019
]
[
Jan
|
Feb
|
Mar
|
Apr
]