25th Anniversary Live Stream
On November 15th, 2023, TNT held a special live stream with members of the staff and community. It was about an hour long, and you can view a
recording of this special live stream on YouTube
! This is just some brief coverage of the important highlights from that livestream.
Roadmap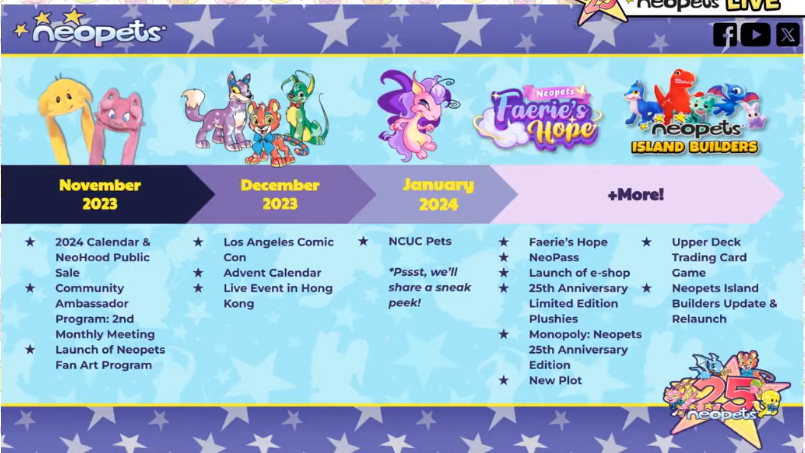 Lots of new merchanise is coming up in the next year! 2024 Calendar & NeoHood item, limited edition 25th anniversary plushies
A second meeting with the Community Ambassador Program is coming up

Aiming to update various policies
Updating guidelines revolving around fan art
Neopets Fan Art program will be announced in November 2023

TNT looking into new international conventions for Neopets, will be seeking community advice in the future
There will be an upcoming live event in Hong Kong, since there's a large market there
NeoPass

Like a single sign-on for all of Neopets and Neopets games
Will replace the old login systems, to easily login across various Neopets' games

NCUC

Will be pushed back until January 2024, due to TNT's current focus on Advent Calendar and other current projects
Will be a Neocash item, purchased in the NC Mall
Might be similiar to a "paint brush" but it will not be called a "paint brush"
Will be a new item (called a token) to activate
The first series will be Faerie (like) pets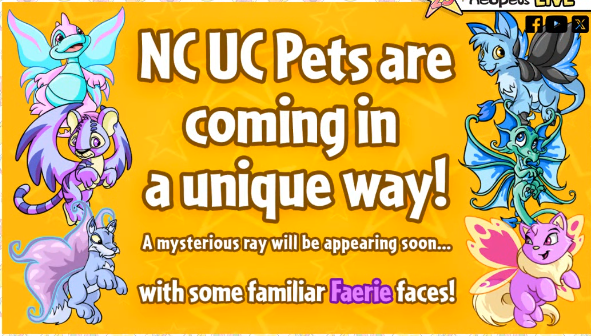 Island Builders beta test ongoing, anticipated launch early 2024
Battledome has some issues with it, and might be worked on end of 2024. No details or promises to fix currently, but it's on their radar. Some technical infrastructure is needed to be fixed beforehand.
Q&A
How often do the Quest Log prizes get rotated?
No definitative answer given, but TNT collecting and analyzing feedback.
Where do you see Neopets in 5 years from now on its 30th anniversary?
No definite goals given, but they are interested in producing a film.
Will there ever be a NC item that will allow us to rename our pet or username?
Not as easy as TNT anticipated, so it's put on the backburner for now.
When will we get more pet slots? Can we have 40?
TNT has also been discussing this, and may announce when at a later date.
What progress is being made in the battle against the bots?
TNT has been working on this issue, and haven frozen many accounts that had high evidence in cheating and selling off-site. While it's not obvious to normal gamers, but this issue is being eradicated. A lot of time is being spent on investigating and cracking down on problems, and adding in more measures in the bot capture systems.
When will we be seeing a new species anytime soon?!
The last species (Vandagyre) was added over 10 years ago. The main issue with adding a new species is the cosmetics, and having them all fit the new species. There's also a lot of internal issues needed to be fixed before adding a new species.
Interview with Anthony
Brainstorming new species concepts
Thought of a dragon/cat hybrid as a new species as his personal idea
Mentioned bringing in the community to pitch in new ideas
Interview with Alice
Alice has been working on Neopets' support team for the past 21 years
Works on 600 to 1,000 tickets a week
Support team has grown, efficiency and satisifaction has improved under Alice's leadership
Average ticket wait time has dropped down to about a week now
Zero tolerance policy on threatening and abusive behaviour towards TNT Support Staff
Account recovery process has been redone, so if you haven't been able to recover your account before, you can try again now by creating a new support ticket.
Live Stream Prize Code
At the end of the live stream a code was given out to give an item for redeption at the
Grundo Warehouse
. The item is non-tradeable and can only be redeemed once per account.
BIRTHDAY25LIVE