News Archive
Hello, everyone! How are those wrists coping with the
Altador Cup
? Let's hope there aren't too many admissions to the Neopian Hospital as a result of this xD. Today we bring you the match report for Day 14 (June 14th) of the tourney.
The first of a few sweeps went to
Team Haunted Woods
who gave
Team Brightvale
a fright they would never forget! "Braaaaiiiinsss..." Needless to say, Brains Mortigan had fun chasing the Brightvalian scholars around the pitch, so it was more of a hunt than a game of Yooyuball. "Someone needs to consider changing Brains' diet!" Orie Dinelle of Brightvale said pointedly towards the Haunted Woods' Captain.
The second sweep went to
Team Virtupets
who set their lasers to "kill" against
Team Moltara
. "If they thought they were getting a Draw or Win against us, they were so wrong!" Sela Pretore said competitively outside of the Coliseum. Tulah Kisner of Team Moltara pondered other tactics. "Maybe our team would do better if we were paid more?" That suggestion was directed straight at Moltara's team manager.

Team Kiko Lake
would not be dominated by
Team Darigan Citadel
yesterday when they put up a great defence method against them. All of the support games were awarded to the scrappy Lakers whilst the Darigans held their own by securing Yooyuball as theirs. "The Kikos are excellent at causing an upset when they want to," Tandrak Shaye said, signing autographs for his adoring public. "It's very promising for the underdogs." "Poke" Cellers from Kiko lake said, "The only ones under the rockslide this year are Team DC!"
There were some rocky results from the
Team Maraqua
versus
Team Roo Island
match when two draws prevented the Maraquans from dominating the games. The draws happened in Slushie Slinger and Shootout Showdown. "No one wants Elon to have full boasting rights. It's just not cool," Gordo Gunnels of Team Roo Island said in a joking manner. Team Maraqua did have the match in their fins with wins in Yooyuball and Make Some Noise. Lamelle Turow from Maraqua said, "It's still hard to adjust moving from the Lost Desert but I think the change is refreshing. We performed well!"

Team Mystery Island
played under the sun yesterday as they challenged
Team Altador
on the pitch. Needless to say Altador managed to cause some upsets by drawing in Make Some Noise and winning Slushie Slinger! Lyvon Cibaire from Altador said, "We may not be the best in the tournament but this just proves that our potential is pending to shine!" Regardless of this, the Islanders had the upper-hand by winning Yooyuball and Shootout Showdown. Vela Binal of Mystery Island cheered. "It's great when Altador steps up their game, it will make the second round more interesting."
In the
Team Kreludor
versus
Team Meridell
match, the knights were determined to cause as much damage as possible to the Kreludans' chances of winning the match. "We forced a draw in Yooyuball," Ilsa Ellits from Meridell explained over a cup of tea, "and made good with a win in Slushie Slinger. It was an honourable game." Kreludor did have the overall win, though, as they won Make Some Noise and Shootout Showdown. "Blasters are better than swords any day!" Zenor Kevix declared adamantly.

Team Lost Desert
is keeping their heads up and their eyes set on a higher rank as they battled through the worst sandstorm they have ever encountered since ACI. Naturally the sandstorm came from
Team Faerieland
who won both Slushie Slinger and Make Some Noise against them, whereas the Desert Squad retained their dignity as former champions by winning Yooyuball and Shootout Showdown. "We won't deny that our performance has suffered a great deal since winning the trophy last season," Captain Leera Heggle of LD said in more of a mumble than a statement. "But I really am starting to believe in the 'Winner's Curse'." Team Faerieland's Valtonous Rea had this to say, "Lost Desert shouldn't feel ashamed of what's happened. This is just a knock-on effect from the rise of the underdogs."
T2 faced off yesterday (
Team Terror Mountain
versus
Team Tyrannia
) in an almost anti-climatic duel! The games were so close that the results almost ended in a four-way tie, but Terror Mountain managed to prevent that from happening by besting Team Tyrannia in Slushie Slinger. (They did WHAT now?! Tyrannia are the masters of Slushie Slinger!) So the match did go to the snowy squad but only by the thinnest snowflake of chance. The Referee of the tournament was astounded. "Honestly, I've never seen two teams rival each other so equally. Will this happen against in the Second Round Robin? It's hard to say!"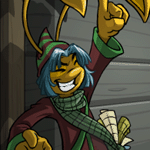 Hoban:
Hello, people! I'm Hoban, the navigator from the Cyodrake's Gaze; more famous for being pushed overboard causing the forced set of circumstances that revealed Shenkuu to Neopia all those years ago. I have some free time on my hands since Captain Tuan went on holiday to Mystery Island for a week, so now I'm having a break from mending old maps. Today I'm here to talk about my team, Team Shenkuu, and their match against Team Krawk Island (who doesn't love a game between ninjas and pirates?) Hmm, well, unfortunately things didn't go too well for my team. Shenkuu actually buckled under the attack from the pirates, but you've gotta hand it to Mirsha and her squad, they do have a high endurance despite being swept... Krawk Island doesn't look the same without Dasher Soley in the picture.
That new girl (Dinksy, is it?) seems to be quite talented, but I don't know, it seems like everyone can feel Dasher's absence. Team Shenkuu was very courteous about the four losses, though. I think after some meetings with their manager they're just trying to recover some footing after falling to Eleventh last year. Credibility seems to be their highest priority right now, can't say I blame them, the team suffered a fall as bad as mine from the deck of the Gaze - it's very hard to recover from! But I believe they can rebound in the future... we don't need stargazing to foresee that, just the will-power to succeed. I am proud to support my team :)! And Team Krawk Island... you had the honourable win. Now, if you'll excuse me, I have some more matches to watch. (Keep going, Shenkuu! I heard the Emperor has not forgotten your past successes.)
Are you ready to ROCK?! Yeah? Well you're in luck, we managed to get the Ticket Vendor from Tyrannia to join us in the VIP Booth tomorrow!
This report has been brought to you by
SunnyNeo's Rank Calculator
. How far to All-Star? Take a look and see if it's achievable for you :)!