News Archive
Welcome to Day 22 of the tournament. Apparently the Techo Super-Fan has been upto his usual antics according to TNT on the
New Features
:
The Angry Techo Fan has a personal record of 1,948,302,483 games of Make Some Noise... Don't worry though, he's been cheering for every team. ;)
Throat lozenges, anyone?
Now it's time for our
Altador Cup
match report for Day 21 (June 21st) of the tournament. Amazingly there were no clean sweeps:

Team Krawk Island
took to the high seas (or the little lake) and won Yooyuball, Slushie Slinger and Make Some Noise against
Team Kiko Lake
. Captain Garven Hale said, "Ack, Dinksy really needs to work on her slinging skills for Shootout Showdown." Team Kiko Lake was victorious in Shootout Showdown. Holbie Pinnock announced, "Kikos have strong arms, it's kind of the way we were created that helps with this game."
The Rooligans bounced to a happy ending against
Team Lost Desert
with wins in Yooyuball and Make Some Noise. There was no way of telling who was better in Shootout Showdown so the referee declared a draw, but the Lost Desert pulled a success in Slushie Slinger to redeem themselves. "King Roo will be so pleased with us," Captain Lilo Blumario from
Team Roo Island
chimed. Derbi Azar from Lost Desert said, "Has anyone seen King Jazan lately? Apparently he was last seen at the Wheel of Exrtavagance before being mobbed by fans."

Team Maraqua
out-rocked Tyrannia yesterday in Yooyuball and Shootout Showdown. "Who's the boss? Me," Captain Elon (kingsize ego) Hughlis said tauntingly after the match.
Team Tyrannia
did not have the same dominance in the support games, only managing to draw in Slushie Slinger and Make Some Noise. "We have the joy of knowing that they did not sweep us," Wila Benne of Tyrannia said smugly.
Team Faerieland
lived up to their nickname as Fyora's Fighters by wrestling wins off
Team Shenkuu
in Slushie Slinger and Shootout Showdown. "The ninjas might be improving but we're able to break some patterns." Shenkuu's Larcy Phu acknowledged this, "The Faeries are stronger than some people give them credit for. But we also have room to improve." Yooyuball and Make Some Noise went to Shenkuu, giving them the match.

The flames of Moltara's steelworks were brighter than the Altadorian sun as
Team Moltara
burned through with wins in Yooyuball and Shootout Showdown. Tulah Kisner from the Steampunk Squad said, "I've been paid to say that everyone should go to Moltara to see Tangor's Workshop. There, I said it, can I go celebrate the win now?" The gladiators were glad with wins in Slushie Slinger and Make Some Noise. "At least our supporters were in good shape! Long live the king!" Lyvon Cibaire from
Team Altador
said delightedly.
The four games were split between Haunted Moon:
Team Haunted Woods
and
Team Kreludor
. The overall win was awarded to the tougher Team Kreludor, Yooyuball and Shootout Showdown sealed that result. Coco Metrone said, "Sorry, Krell, we'll pay for Brains' medical bill." Slushie Slinger and Make Some Noise went to the Haunties. "Aww, poor Brains, he'll be back for the next match, don't worry," Captain Krell Vitor said reassuringly to the fans who saw the damage the poor zombie endured.

The knights of
Team Meridell
stormed
Team Terror Mountain
's ice castle and made haste to take Yooyuball as their own, but valiantly wrestled a draw in Slushie Slinger. Fiorina of Meridell said, "That'll teach them for making fun of Yoris." Make Some Noise and Shootout Showdown went to Team Terror Mountain, though. Osielle Lidel looked mildly embarrassed. "I'm sorry, I thought he was a Faerie Yooyu!"

Team Brightvale
was able to cause an upset against
Team Virtupets
as they sidled in and stole Yooyuball from their metallic clutches. "The pen is mighter than the Sloth!" Captain "Squeaky" Tressif chortled. Team Virtupets had the last laugh by winning all three support games. "Sloth will still be proud of us... right?" Sela Pretore said semi-confidently.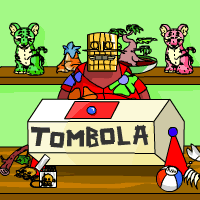 Tiki Tack Mon (AKA Tombola Guy):
Hola, everybody! Have you had a go on my Tombola in Mystery Island? NO? What, why? Oh, yes, the Altador Cup season... You really should give it a go and visit my Tiki Tack Shop, it is full of awesomeness. I have closed up shop for a time to join SunnyNeo in the VIP Booth to talk about my Yooyuball squad,
Team Mystery Island
. Ah yes, they played against
Team Darigan Citadel
. Well Mumbo Pango was not present at the match - of course, he is BIG - but my team managed a draw in Yooyuball. The Darigan squad won all of the support games! What was that about, mon? They had more power than the magma of Techo Mountain. But no worries, Mystery Island mons, just think about home and we will win! Okay, time is up now. I must be heading back to my Tombola.
In the VIP next time will be joined by... do we have anyone for tomorrow? Oh, I guess it will be a surprise!
This report has been brought to you by
SunnyNeo's Team Interviews
. Want to talk about your favourite team? Now's your chance!