News Archive
We now have a new Extreme Potato Counter Guide available for you! Check it out for helpful hints and strategies, whether you want to try for the avatar, earn a shiny trophy or simply enjoy counting flying potatoes.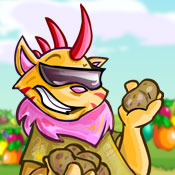 Did someone say potato? Totally rad!!! Let's go!
---
It is the 25th of the month. That means that the games ratios have reset. Our Top Games Ratios page has been updated. Hooray! Be sure to check it out and see what games will earn you the best NPs based off our staff averages!