News Archive
Hello happy people :)! Well the Yooyuballers weren't too happy about the
weather
yesterday, so let's see what the weather is for Day 20 of the
Altador Cup
tournament...
Today is the 20th day of Relaxing, Y13
Today's Weather: boiling hot, droughts expected
Average temperature today is 51 degrees C (124 degrees F)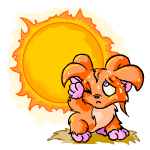 Yikes! That's worse than yesterday's weather in Altador. Keep under the nearest parasols or shades, fans, you don't want to get heat stroke.
Now for the
match report
for Day 19 (June 19th):

Team Virtupets
was orbiting the planet and eliminated their opponents,
Team Roo Island
. The Rooligans put up as much defence as they could, but could not prevent the clean sweep that washed over them from above. "We're back on form. Turns out Goltron just needed some fresh oil," Keetra Deile explained. "So we were caught off guard... Now, if the Altador Cup was a tournament based on Dice-A-Roo, we'd be looking at a different result right now," Gordo Gunnels said with a grin.
Team Darigan Citadel
could withstand the heat against
Team Altador
, where sun flares could not get them in the shadows. Yooyuball, Make Some Noise and Shootout Showdown went to the Darigans, but Slushie Slinger went to the Altadorians. "Sometimes one extra slushie can make all the difference," Timu said sagely, leaning against a colosseum pillar. Darigan Citadel's Reshar Collifey said, "Who needs slushies when we can look up and think 'we have a shot at the Cup'?"

Ciona Broan from
Team Faerieland
was looking forward to another day in the bright sunshine. "Hey, it's no wonder why slushie sales are through the roof, what with THIS weather." The Faeries were against
Team Krawk Island
and the pirates succeeded in Yooyuball, Make Some Noise and Shootout Showdown. "Whilst they were enjoyin' the sunshine, we were enjoying the wins," Zayle Sufhaux said jovially.
It was a close match between
Teams Mystery Island
and
Terror Mountain
as Yooyuball and Shootout Showdown ended in a draw. The Mountaineers secured the match with wins in Slushie Slinger and Make Some Noise. "It was unbearably hot but considering we were against the Islanders... we coped better." Teylor Nix of Mystery Island folded his arms. "I think we played excellently! Who thinks we can change those draws into wins next time?"

Team Haunted Woods
spooked
Team Kiko Lake
out of wins in Yooyuball and Make Some Noise. They held their ground to draw in Slushie Slinger, but the Kikos got the last shock by winning Shootout Showdown. "They didn't frighten us, what are you talking about?" Captain "Poke" Cellers laughed, only to be scared silly by Wan Dirx moments later.
The knights gave
Team Tyrannia
a performance they'd never forget! The only win the prehistoric squad were able to steal was in Make Some Noise (they do like to yell) and came close in none other than Shootout Showdown.
Team Meridell
took no prisoners as they won both Yooyuball and Slushie Slinger. "We're the knights of the round table and we'll thwart anyone who stands in our paths!" Captain "Wizard" Windelle cheered after the games.

The ninjas were still on the ball and won Yooyuball against the scholars.
Team Brightvale
and
Team Shenkuu
were unable to claim a win in Slushie Slinger and Make Some Noise so the referee declared both games a draw. Shootout Showdown went to Team Shenkuu. "Roberta's right, with her doing our paperwork, we can focus more on matches," Orie Dinelle said happily. Shenkuu's Foltaggio said, "I think Brightvale are on form this year, but don't underestimate the determination of our team."
It was an extremely close match between
Team Maraqua
and
Team Kreludor
. Elon Hughlis had to be locked in a wardrobe again as they drew in Yooyuball, Make Some Noise AND Shootout Showdown. Lamelle Turow of Maraqua said sheepishly, "Our Captain is not coming out of the wardrobe until he deals with the results." Guess that will be a while yet. "Elon has nothing to complain about," Captain Derlyn Fonnet of Team Kreludor said in disbelief. "His team WON the match by taking Slushie Slinger. Sheesh."

Cog:
Hello, everyone! This is rather exciting, I haven't been out of Moltara before! It was a delight to watch
Team Moltara
play against
Team Lost Desert
today. Now I know Team Moltara does't have the best record in the tournament, but when they come home to Moltara they are still treated as heroes. And you know what? They drew in Make Some Noise, so that's good! Team Lost Desert was very talented. You should have seen them on the field! They played Yooyuball expertly and Shootout Showdown was... well, I know I am talking about the opposition but they did very well. And Slushie Slinger also went to the Desert squad. Yeah, yeah I know Moltara was almost swept, but did I mention that this is my first time out of Moltara :D? I'm gonna try some Feta Cheese and maybe go to the docks to look at the boats next. This is really exciting...
We'll leave her to ramble on some more on her own. Next time in the VIP Booth will be Hannah the Brave. Prepare for an adventure!
This report has been brought to you by
SunnyNeo's Fan Freebies
page, because no one likes to miss out on more stuff.