News Archive
Hello, everyone! It's time for the Day 25 (June 25th) of the
Altador Cup
, where there are a couple of sweeps to talk about. Good luck to all teams and have a great day in the tournament!

Team Tyrannia
gained the first sweep against
Team Mystery Island
. "Uh... Volgoth must offer lots of fruit to Mumbo Pango now after that result..." The Islander's Captain groaned unhappily. Meanwhile, Team Tyrannia celebrated over slices of the Giant Omelette. "Who can get sick of omelette?" "Scrap" Taggert said gleefully, eating some Carrot and Pea Omelette.
Team Darigan Citadel
were floating above it all with a clean sweep against
Team Terror Mountain
! "Who doesn't love snowboarding on Terror Mountain?!" Captain Layton Vickles of DC joked. The Mountaineers needed to cool down after the loss and helped themselves to ice creams. "Don't worry, Tooth Faerie, it's sugar-free," Minae Mitora said to no one in particular. I guess she's trying to avoid cavities.

The Rooligans wasted no energy against
Team Shenkuu
yesterday when they swiped wins in Yooyuball, Slushie Slinger and Make Some Noise. Shenkuu narrowly missed being swept when they drew in Shootout Showdown. "That was too close for comfort," Foltaggio from Team Shenkuu said, sighing with relief. "But this won't keep us down!" Fenny Vail from
Roo Island
said, "Ooh we were so close! Nevermind, we did really well!"
The sun was not too hot for the desert as
Team Lost Desert
was protected from
Team Altador's
blaze, which enabled them to gain wins in Yooyuball, Make Some Noise and Shootout Showdown. "I think we all deserve some time off... when's that Bye-Day coming up?" Vonde Cayle asked with a grin. Team Altador won Slushie Slinger, which coolled their nerves. "Sometimes a single win can change your outlook on the tournament," Timu explained. "It's more about the attitude of the players and the supporters. That's far more important."

Team Meridell
shocked the stadium by almost sweeping
Team Kreludor
! "Hooray! This is a victory that will make Neopians think twice when they come to face us," Fiorina of Meridell exclaimed happily. Team Kreludor managed to salvage themselves with a win in Make Some Noise. "Just... wow. The knights were really on form! I think we need to rethink our field tactics," Captain Derlyn Fonnet of Kreludor said in awe.
Team Haunted Woods
played all kinds of pranks on
Team Faerieland
to try and throw their concentration off the games, and to some extent it worked! Yooyuball and Make Some Noise went to the Haunties, but they hadn't frightened Team Faerieland enough to prevent Fyora's Fighters from winning Slushie Slinger and Make Some Noise. "You know what we forgot?" Captain Krell Vitor of Team Haunted Woods mused. "We needed to put jellied eels in their lockers. Maybe next year..." Faerieland's Elbin Kroe laughed. "I find the Haunted Woods quite funny, to be honest. They don't frighten me."

The pirates of
Team Krawk Island
could not best the scholars yesterday, even though they took the win in Yooyuball. "WHAT HAPPENED?" Captain Garven Hale roared at the Slushie Stand. "Nitri, who can I blame fer this failure?" Nitri simply told him to eat his own words.
Team Brightvale
could only laugh in spite of them with wins in Slushie Slinger and Make Some Noise. They drew Shootout Showdown with the pirates. Kayn Hireck from Brightvale said, "Ah, nothing beats a good upset!"
The two water-based lands splashed it out and the results were enough to flip over any ol' boat. "We got Yooyuball, so there!" Captain Elon Hughlis of
Team Maraqua
said huffily, standing by the fact that it had in fact been the most important win.
Team Kiko Lake
had taken no prisoners with a support game sweep! "Never underestimate the power of a lake," Holbie Pinnock said with a hint of "booyah" to his voice.
Now for our special guest VIP, Igneot!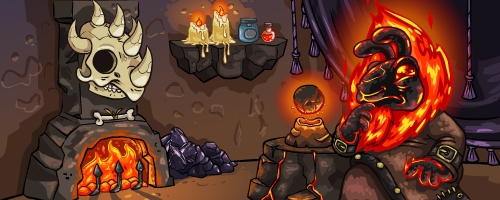 Did Moltara win Yooyuball?
Igneot:
The coals burn brightly in favour of this.
You didn't watch the match, then. Team Virtupets beat Team Moltara in Yooyuball.
Did Team Moltara win Slushie Slinger?
Igneot:
The fire has gone out, the answer is no.
Correct, neither Virtupets or Moltara won Slushie Slinger, they were equally matched.
Did Team Moltara win Make Some Noise?
Igneot:
The fires say it will be so.
Eventually they will win it, but they didn't win Make Some Noise yesterday.
Did Team Moltara win Shootout Showdown?
Igneot:
The darkness is settling in, but the light still burns.
What the heck does that me--?! Okay, basically Virtupets beat Moltara in Shootout Showdown as well. Stop being cryptic, Igneot!
Will Moltara finish higher than last place this year?
Igneot:
The darkness is here and will not be overcome.
Ouch! That was a bit harsh! Have more faith in your team, dude.
Do you enjoy watching the Altador Cup?
Igneot:
It has been forseen.
o_O... Moving on...
Have you ever met Team Moltara in person?
Igneot:
The darkness is here and will not be overcome.
You said that already.
Does that mean you don't want to meet them, or are jealous of those who have met them..?
Igneot:
The coals become colder, but there is a chance...
That's more optimistic! Maybe you will meet your favourite team one day.
One final question: Will the Techo Super-Fan ever lose his voice?
Igneot:
The solution lies in your hands.
o_O What are you suggesting...? I'll take that as a "no"... Someone get this guy a Neovision set or something so he can keep up with the tournament, geez...
In the VIP Booth tomorrow will be Queen Fyora herself. Yay!
This report has been brought to you by
SunnyNeo's Customisation Spotlight
! Where your pets have their moment of fame.