News Archive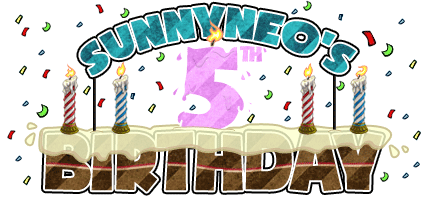 Well would you believe it? Today is
SunnyNeo's 5th Birthday
! Half a decade ago, the SunnyNeo that we know and love today was officially launched to the Neopian public. You can find out how SunnyNeo came to be on our
history
page. Ever since we have been providing visitors with helpful guides and goodies. And the goodies don't end there either, we have lots in store for you to look at today alone, so let the celebrations begin!

For all of you
Altador Cup fans
we have a
special off-season report
waiting for you to read! If you want to find out the
Altador Cup
celebrities' favourite venues for a party in Neopia, this is the article for you!

For
Customisation enthusiasts
we have something special as well! If you'd like to dress up for party, why not do it now? To give you some ideas we've dedicated a page with
party customisation suggestions
for all kinds of different celebrations!

In other news,
SunnyNeo's Graphics Department
was super excited to discover that a batch of Birthday Themed Graphics needed creating in order to get the party going. The team set off with their favourite crafting tools in hand and began creating a bunch of Birthday Themed Goodies for you to indulge in. Enjoy!
No party is complete without balloons floating all around the place, brightening up the mood of guests. To help those party planners out there, we have made a new
Party Themed
shop
+
gallery
layouts to help prepare for any upcoming parties!
Or why not jazz up one of your layouts with our
Birthday Themed
Background
,
Fake Avatars
,
Shields
and
Art Adoptables
?

We all love to hear your
compliments
, it's like the icing on the cake of a hard day's work :D. The
Testimonials
page is dedicated to some of the kind words we receive about SunnyNeo. After five years, that's a lot of friendly feedback.

You may even want to
join the SunnyNeo staff
! Blow out the birthday candle, make a wish, and check out our
Apply for Staff
page for any open vacancies.
A big thanks goes to

itself for being entertaining all of this time (not to mention inspiring many to learn
HTML
and
CSS
to make their Neopets pages look cooler!) and for the users who band together to work together on
Neopian plots
etc. The list goes on!
SunnyNeo
is proud to have been (and still be) here to offer a huge array of help, art and more to the community. There will be many years of awesomeness to come from both!
Three cheers for SunnyNeo! Three cheers for Neopets! Keep on rocking!



Can I open it now, please?