News Archive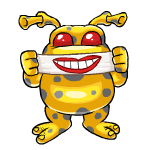 The day started on a high for last year's sixth placed team, as Kreludor continue their unbeaten run of Yooyuball games. Heading into the interval, Meridell were certain they would be able to win the Slushie Slinger tournament, but were left standing in amazement at Kreludor Team captain Derlyn Fonnet's unparalleled speed and accuracy. Kreludor continued their run of success with an easy win in Shootout Showdown, and Make Some Noise, proving their fans do have some of the loudest voices in the Altador Cup this year.
Currently in second place, using our
very own scores table
, Krawk Island faced Maraqua in what was said to be a very unfair contest. After losing the Slushie Slinger and Make Some Noise games, Maraquan goalkeeper Tonie Plessix, reassured their fans that they are not going to let the other teams walk all over them, but made another request to the referee that Maraqua should be allowed to play their games underwater. Unfortunately for the Maraquan team and their supporters, the referee declined to change the rules, leading to a Krawk Island win across all four games.

Having been sidelined from the tournament last year, Kiko Lake have so far failed to get higher than 13th place in the table, although yesterday's games against Mystery Island did provide some surprising game results. The referee decided to start the games with Shootout Showdown, which was won hands down by the Kiko Lake team. Team captain "Poke" Cellers, declined to comment on rumours that the team had been practising none stop since their failure to compete last year, but did say he was very pleased with their performance so far. The Mystery Island recovered quickly from their defeat, cheering the Islanders on into their fourth Make Some Noise win. The next game was Slushie Slinger, and both teams raced frantically to serve as many slushies as they possibly could, resulting in a draw after the slushie making machines couldn't keep up with demand. The referee promised the machines would be repaired before Sunday's games. Finally, Mystery Island proved just how they have managed to be third in the table so far, with an easy Yooyuball win to end the day.

Fourth placed Darigan Citadel faced the icy might of Terror Mountain, in what was expected to be an easy win for the Darigan team. Unfortunately, the Terror Mountain team had an unusually high quantity of Fire Yooyus in their match, and were wary of handling them too much, leading to a walk-over win for Darigan Citadel. Spurred on by their success, the DC fans cheered their way to a win in Make Some Noise, before settling down to watch what they expected to be another win for Shootout Showdown. However, the Terror Mountain team have obviously been practising their penalty shootout skills, and managed to hold the Citadel to a draw. Darigan captain Layton Vickles, gave a few words of encouragement to his team before the Slushie Slinger game: nobody else heard what was said, but it did the trick, giving DC their 2nd Slushie Slinger win of the Cup so far.
Defending champions, Roo Island, faced this year's odds-on favourite to win the championship, Shenkuu in what fans were describing as "the ultimate match of the day". Roo Island left their fens bitterly disappointed though, losing every single game to the skilled Shenkuu side. After the games, the Islanders captain Lilo Blumario reassured their fans that everything was under control, stating their team tactics are to "not burn ourselves out too quickly". Only time will tell if Lilo Blumario's methods will lead the Roos to another win this year, or if they will face the wrath of Count von Roo for not placing in the top four teams.

Tenth placed Virtupets scored a shock win in Shootout Showdown, after the Tyrannian team missed a lot of easy shots. Some Tyrannian fans blamed their fourth loss on team captain Loryche's scoring weakness, leaving the Tyrannian team considering a change of team players for next year's Altador Cup. Virtupets couldn't continue their game wins, however, leaving them with losses in Yooyuball and Slushie Slinger, with their fans too shocked at their Shootout Showdown win to cheer loud enough for Make Some Noise.
The Lost Desert team knew they were up against some of the best Altador Cup players when they faced the Haunted Woods team. However, HW team member Autrey Fulse's inexperience was showing as the Lost Desert was able to hold the Haunted Woods to a draw in both Yooyuball and Slushie Slinger.

Unfortunately, a Lost Desert fan was stopped at the Colosseum gates, for trying to bring in some Lost Desert Team Megaphones. The referee decided to award Haunted Woods a win for Make Some Noise without even letting the game go ahead. The resulting shock for the Lost Desert lead them to lose the Shootout Showdown game hands down. Speaking after the day's games, Lost Desert captain Leera Heggle pleaded with their fans to play by the rules, reminding them that they don't need to bring in Megaphones to be able to cheer loudly.
The final games of the day saw last year's low placing teams Altador and Faerieland, battle it out at the bottom of the table. Faerieland have had a poor season so far, with straight losses over all their games, and the Altador team were seen playing KeyQuest last night, rather than training. The Faerieland side took advantage over the home team's lack of practise in the Yooyuball match, with Altador only able to hold fantastic Faerieland to a draw. Unfortunately, the Faerieland team were in shock after that surprise result, and were unable to hold back the amazing Altador team in any of the other three games.