News Archive
We're on the 6th day of the tournament, so here's the report for Day 5 (June 5th) of the
Altador Cup
. Today we have
dragged
invited most of the Yooyuball Team Captains to our couch (
We have a couch?!
) to talk about their matches yesterday!

vs.

For the first report of the day, we have Captain "Squeaky" Tressif from Team Brightvale and Captain Leera Heggle from Team Lost Desert talking about their results yesterday. Brightvale came away with wins in Yooyuball, Slushie Slinger and Make Some Noise, leaving Lost Desert to steal Shootout Showdown.
Squeaky:
I can't believe we managed to find Lost Desert's weakness...
Leera:
What weakness? We're hard as nails!
Squeaky:
You weren't yesterday, my friend! One win? I'm afraid you've inherited the "Winner's Curse".
Leera:
We're just off to a rocky start! And you guys played well.
Squeaky:
Thank you. But you can't deny that you're slipping.
Leera:
I'm sure it's only temporary.
Squeaky:
You keep telling yourself that.
Leera:
*Grunts* Don't get smart with me just because you won the match! It doesn't mean that you won't fall and we won't rise further along the tournament.
Squeaky:
Okay, I'm sorry, don't get sand in your pants! But you have to admit, we played really well.
Leera:
I'll give you that one, Squeak. Why do they call you "Squeaky" anyway?
Squeaky:
It's an inside joke.
Leera:
Figures.

vs.

Captains "Poke" Cellers from Team Kiko Lake and "Wizard" Windelle from Team Meridell joined us next on the couch. Team Meridell emerged victorious with wins in Yooyuball, Make Some Noise and Shootout Showdown but finished with a draw in Slushie Slinger against the Kikos.
Wizard:
Our Yoris Obbles gets enough gip about being a JubJub goalkeeper, but you look at the Kikos and have to admit they're equally handicapped without any legs. They put on a good show yesterday, but we're just better in some areas of the games.
Poke:
Lack of limbs doesn't come into this. I don't know why some Neopians have a problem with that, we play alright.
Wizard:
Well Slushie Slinger and Make Some Noise are fan games anyway. Because we, as Yooyuballers, don't partake in that part of the competition so it's fair game.
Poke:
I can only apologise to the fans for not securing wins in Yooyuball or Shootout Showdown. I'll admit that my arms have been aching no thanks to the constant slinging of Yooyus all week. I need to talk to the medic about that.
Wizard:
Well I hope you feel better, dear chap, you can't be running around this here field with a sore arm, it defeats the purpose of the match.
Poke:
I'm well aware of that, Wizard.
Wizard:
Very well then! Say, shall we grab a slushie before our matches today start?
Poke:
Sounds good to me!
Wizard:
Marvellous!

vs.

We are now joined by Captains "Trapper" Remis of Team Altador and Kakoni Worrill from Team Faerieland. Faerieland amazed their supporters by taking down the tournament hosts with wins in Yooyuball, Make Some Noise and Shootout Showdown. Altador redeemed themselves with a victory in Slushie Slinger.
Trapper:
Team Faerieland is definitely rising up the ranks this year, no doubts about it, but I just wish we hadn't got that Clockwork Yooyu in the last thirty seconds of the match!
Kakoni:
I kind of feel bad for the gladiators. They try every year and still struggle to succeed. At least their hearts are in the right place.
Trapper:
As much as I respect you, Kakoni, we don't need your sympathy. One day we will rise. And that day will be glorious!
Kakoni:
Maybe you need to change your pitch formation? Or perhaps hire a new player?
Trapper:
I'm in discussions with my manager right now. But hopefully we can figure out how to improve without too many drastic changes. I know you guys signed on Elbin Kroe, and he is a great player, but I'm not sure if a roster change is the way for us to go.
Kakoni:
Well, I wish you the best of luck!
Trapper:
You too, Kakoni. It must have been difficult after Faerieland crashed for you guys to get back into training.
Kakoni:
I know! I'm so proud of my team for recovering so swiftly from that. I still have nightmares about it.

vs.

Captains Layton Vickles from Team Darigan Citadel and Volgoth from Team Mystery Island were the next to join us. The Darigans had the overall win with Yooyuball and Make Some Noise. Slushie Slinger and Shootout Showdown ended in ties.
Volgoth:
Not the greatest day for the island.
Layton:
Aww, don't be bitter about it.
Volgoth:
The Great Mumbo Pango won't be pleased.
Layton:
Wasssn't he called Pango Pango?
Volgoth:
No. *
Shows picture
* Mumbo Pango. He is BIG.
Layton:
He'sss huge!
Volgoth:
*Nods* He is not pleased with loss.
Layton:
Just don't invite him to the tournament and you'll be fine.
Volgoth:
He knows all.
Layton:
I'm glad he doesssn't play for you guysss. We'd be doomed.
Volgoth:
*Chuckles* Maybe we should hire him.
Layton:
Ssssorry I mentioned it.
Volgoth:
Do not worry, Hissi friend. He is too grand for the stadium.
Layton:
Better luck next time.
Volgoth:
Same to you, Darigan Captain.

vs.

On the couch next are Captains Lilo Blumario from Team Roo Island and Mirsha Grelinek from Team Shenkuu. The Rooligans claimed wins in Yooyuball and Shootout Showdown and ended in a draw with Shenkuu in Slushie Slinger. Make Some Noise went to Shenkuu's rowdy fans. Despite the rocky results, both Captains were giggling constantly about the match.
Lilo:
You should have seen their faces! My team just played "Catch" for a while with the Yooyus and Shenkuu was running all over the place!
Mirsha:
You can talk! YOU scored against yourself with that Darigan Yooyu. The look on your face was priceless. The shock from your teammates was too funny!
Lilo:
Yeah well, at least my Defenders didn't score an own goal.
Mirsha:
That only happened because Jair tackled Antola right near my goal.
Lilo:
He wasn't hurt, was he?
Mirsha:
Just a bruise, nothing to fear, Lilo.
Lilo:
You didn't have to whack me on the head with the Faerie Yooyu though!
Mirsha:
That was an accident!
Lilo:
Oh really? I just thought you wanted my attention.
They were both smirking by this point.
Mirsha:
I love our matches together. It's the one time we can relax in the tournament and just enjoy it for what it is - a game.
Lilo:
I wouldn't say that after a loss, personally, Mirsha.
Mirsha:
No... but they are fun.
Lilo:
Think the fans remember our alliance from the other years?
Mirsha:
I hope so. We have nothing against you guys.
Lilo:
Same here. But good sportsmanship is best all around anyway.
Mirsha:
Can't agree with you more!

vs.

Captains Garven Hale from Team Krawk Island and Krell Vitor from Team Haunted Woods sat as far away from each other on the couch as they reflected on yesterday's match. Krawk Island won Yooyuball and Shootout Showdown whilst the Haunties won Make Some Noise and Drew Slushie Slinger with the pirates.
Krell:
Why do I have to sit next to him?
Garven:
Don't be sour because you lost.
Krell:
That new girl of yours should've left poor Brains alone! He was literally in pieces by the end of the match! He spent the entire evening in medical care.
Garven:
Sorry 'bout that, Krell. Yer need t'try a better glue on yer zombie.
Krell:
Very funny, Hale.
Garven:
Anyway, don't blame Dinksy! She was only doin' her job. The effects of a Clockwork Yooyu cannot be blamed on my players.
Krell:
Ugh... You're right.
Garven:
What was that?
Krell:
Shut it.
Garven:
Oh yer playin' THAT game now?
Krell:
Wanna take this outside, pirate?!
Garven:
Bring it on!
The Altador Cup Committee intervened at this point to tell them to take it to the Battledome AFTER the tournament or just resolve it all on the pitch in the Second Round Robin. The two Captains agreed to settle it over a game of Frumball.

vs.

The following two Captains on the couch are Keetra Deile from Team Virtupets and Prytariel from Team Terror Mountain. Virtupets thwarted Terror Mountain in Yooyuball and Make Some Noise whilst the Mountaineers took Slushie Slinger and Shootout Showdown.
Prytariel:
I swear Dr. Sloth has something to do with their victories. They got WAY too many power-ups during that match.
Keetra:
Oh you're just jealous because you didn't get the overall win.
Prytariel:
I'm sorry but you shouldn't be allowed robots in this tournament! They rarely tire.
Keetra:
They don't tire and the Committee isn't allowed to be prejudice to Neopians.
Prytariel:
Yeah, well, I hope it rains.
Keetra:
Why? So they'll cancel the upcoming matches?
Prytariel:
No, so your robots will malfunction.
Keetra:
That was cruel, Pry.
Prytariel:
But I've gotta hand it to you, your team is well-oiled.
Keetra:
Haha! Thank you. And your team is too cool.
Prytariel:
And don't you forget it!

vs.

The final Captains on the couch are Captains Loryche from Team Tyrannia and Derlyn Fonnet from Team Kreludor. Both teams drew in Yooyuball and Make Some Noise. Tyrannia took their traditional win in Slushie Slinger whilst Kreludor won Shootout Showdown. Overall it was a draw.
Loryche:
I really didn't expect THAT result.
Derlyn:
It was pretty anti-climatic. I have no idea what happened.
Loryche:
Neither of us won, did we?
Derlyn:
Statistically we did not. We were equally matched. I have to hand it to you, Loryche, you were doing something right.
Loryche:
I think both our teams were on form. What was your trick?
Derlyn:
It might have something to do with a lot of Neocola before the match.
Loryche:
Seriously?
Derlyn:
No, I was lying, but I had you going for a minute! *Laughs*
Loryche:
I just get my team to listen to Sticks N Stones music before the match. Motivates them a great deal.
Derlyn:
We don't listen to music before the match. It distracts concentration from the game.
Loryche:
Each to their own!

vs.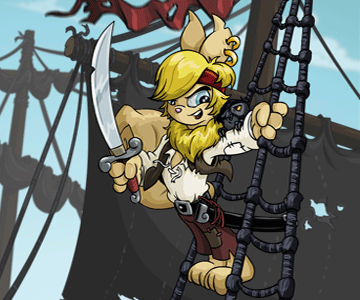 Garin:
Hey, everyone! I'm a different type of Captain... Not the Yooyuball type like everyone else who spoke before me, but the PIRATING kind! No, I'm not reporting for Team Krawk Island - I'm a pirate but I supported Maraqua in their darkest hour against Captain Scarblade. My name is Garin, Captain of the most beautiful ship on the Neopian seas: The Black Pawkeet. Today I am reporting about the
Team Maraqua
versus
Team Moltara
match because SunnyNeo asked me to. Very well... *pockets some Dubloons*. I'd like to say it was a struggle against Moltara, but Team Maraqua was pretty much unrivalled against the Steampunk Squad. They SWEPT those opponents away like the waves sinkin' a ship with rotten wood. Not a single win for Team Moltara. I mean, they seem nice, they had some good moves on the pitch, and their fans had a set of lungs on 'em... but alas, they could not best the Maraquans. Elon Hughlis, Team Captain, had a right to boast yesterday. I know that Moltara didn't have a great start to the tournament last year, but they couldn't match Maraqua - no one can match Maraqua! (Yes I am completely biased.) But they can do better against other teams, I'm sure. Now if you'll excuse me, Jacques and I have some loot to seek out!
I hope you enjoyed this match report. Tomorrow we will see Kavi the Kiko in the VIP Booth. Kavi is most famous for being an expert at Tubular Kiko Racing.
This report has been brought to you by
SunnyNeo's Sign-Up Bonus Items
page where you can see what people got when they signed up for a team this year and in past years.