News Archive
Hello, everyone! Today, just for a change of pace and in light of the new Yooyuball updates, we will be hearing from the goalkeepers of the tournament. Without further ado, SunnyNeo presents the
Altador Cup
match report for Day 23 (June 23rd) of the tournament.

vs

Match summary:
Team Meridell
swept
Team Faerieland
!
Yoris

Obbles

:
I like Team Faerieland, they know the difference between me and a Faerie Yooyu! It was a great match, though, a clean sweep to us!
Valtonous

Rea

:
The knights are very skillful. I'm tempted to visit Meridell one day to learn some of their medieval ways. A day in Meridell... could be fun. Oh, the match? Yeah they swept us, I don't really want to comment.

vs

Match summary:
Team Roo Island
won Yooyuball, Make Some Noise and shootout Showdown. Opponents,
Team Haunted Woods
won Slushie Slinger, preventing a sweep.
Clutch

Billaban

:
Haha! I've never seen the field so filled with gROOsome play! Only kidding, the match was clean and Brains had obviously eaten beforehand. think the bells on our uniforms put off the opposition.
Fan

etti

:
Those jangly bells on the Rooligans are annoying. At least they didn't sweep us! Still, the bell tolls until the end of the tournament. We will spook our next opponents!

vs

Match summary:
Team Virtupets
beat
Team Altador
in Yooyuball, Make Some Noise and Shootout Showdown. Slushie Slinger ended in a draw.
Goltron

Mk I

:
BEEP... Win for Virtupets affirmative... Draw between Team Virtupets and Team Altador occurred... BEEP... Overall win... to Team Virtupets... BEEP.
Salayne

Ritad

:
We weren't so lucky this time but Virtupets put on a good show. I still find it unfair that they have robots on the squad though.

vs

Match summary:
Team Maraqua
took the overall win with victories in Make Some Noise and Shootout Showdown.
Team Brightvale
fought hard to draw in Yooyuball and Slushie Slinger.
Tonie

Plessix

:
Brightvale were really on the ball, I can't remember how many saves I did. But although Elon complained about the draws, at least the scholars didn't take our pride.
Orie

Dinelle

:
Have you seen Elon throw those Fire Yooyus? It's like he's afraid of them or someth-- AH-HAH! He's afraid of fire. Go figure. He is aquatic after all... aw, shame we only realised this just now.

vs

Match summary:
Yooyuball and Make Some Noise went to
Team Mystery Island
, with
Team Kiko Lake
scrambling a draw in Make Some Noise and a win in Shootout Showdown.
Lor

Benneveldt

:
It's pretty hard trying to catch a Yooyu thrown by a Kiko. I think it's that split second in your brain when you have to differentiate the Yooyu from the Kiko. It's mind-boggling sometimes.
Erli

Quinnock

:
Yeah, I unfortunately let in some goals... It wasn't on purpose, they just have really fast throws! Bertie was brilliant against the Kikos though. As always.

vs

Match summary:
Team Kreludor
had the upper-hand in Yooyuball but slipped in Slushie Slinger, gaining a draw against
Team Darigan Citadel
. The Darigans finished off the support games with wins in Make Some Noise and Shootout Showdown.
Jurin

T.

:
The match didn't go quite to plan. Darigan Citadel weren't supposed to win the support games! We were meant to sweep them. Oh well, they're good, really, I'm just joking - they performed well, but we got Yooyuball. Kreludor for the win!
Reshar

Collifey

:
Don't blame me for letting in the goals! (Yes, I know I'm the goalkeeper...) Those Clockworks are horrible.

vs

Match summary:
Team Lost Desert
had Slushie Slinger and Make Some Noise engraved on their results table as theirs to keep. Shootout Showdown was a draw against
Team Shenkuu
but the ninjas took Yooyuball as their own!
Xana

DiLanche

:
I'm glad that the Altador Cup Committee is relaxing the restrictions on us goalkeepers but it's hard work with the new Clockworks. It takes a lot of stamina to keep playing after enduring the blast of one of them.
Leera

Heggle

:
The ninjas may have had Yooyuball but they weren't so tough in the support games. Come on, Lost Desert, we can make a comeback!

vs

Match summary:
Probably the sweetest victory of all today went to
Team Moltara
who won Yooyuball against
Team Krawk Island
. The pirates won the support games.
Mor

Gollog

:
FINALLY! We caught the pirates off-guard. Yooyuball for Moltara!
Garven

Hale

:
I ain't complainin'. I suppose it was gonna happen one day... At least we had all the support games.

vs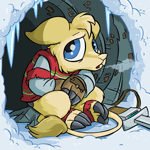 Armin:
Heya! I'm Armin the Small and I'm here to do the report on
Team Terror Mountain's
match against
Team Tyrannia
. Um, well, Team Tyrannia did really well, they won Yooyuball. It was a bit disappointing, I think my team could have done better BUT NOT TO WORRY! Terror Mountain won all of the support games! Yay! You know, I haven't heard from Hannah in a while, I think she's busy. She would probably like to watch some Yooyuball... Wait SHE HAS? Well, so long as she had fun... Anyway, I'm gonna have a look around Altador, it's quite a big place and it's nice to be out of the cold for a while. Where are the docks?
Next in the VIP Booth will be Isca who has successfully recovered from a case of the Bubbles! Yay!
This report has been brought to you by
SunnyNeo's Altador Cup Customisation Overview
page. It's like a catwalk of sports attire.