News Archive

The SunnyNeo Staff wishes you all a very Merry Christmas!
We continue the Cheery Days of SunnyNeo. It's been a long time since we released some new quizzes, but today, we have even two of them. To keep you in the winter mood, we have a quiz where you would spend your Winter Holiday in Neopia. And to match that one, we also come with its counterpart for the Summer Holidays. Go take them and let yourself be surprised with the answers.
For more quizzes, have a loot at our quizzes page.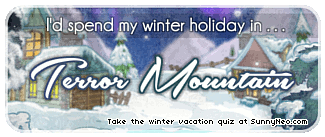 What place will it be for you? Terror Mountain or somewhere totally different?