News Archive
SunnyNeo's Altador Cup Customisation Spotlight has returned for yet another year. We have two categories for you this year again: Team Support and Game Fanatic. For Team Support we are looking for anything from players, cheerleaders, fans, vendors, and the like. Any person who is apart of or supporting their favored team. For Game Fanatic we want to see your pets dressed for the four games. Show us your best Yooyuball, Slushie Slinger, Make Some Noise and Shootout Showdown looks! As long as we get enough entries, we will be doing the same Neopoint Only Winner and NC Included Winner. Team Support should have two winners per team, and Game Fanatic two winners per game. So enter all of your pets that you've dressed for the Altador Cup! Show us your creative customisations; we want to see 'em all!


AC XIV Customization Spotlight Entries NOW CLOSED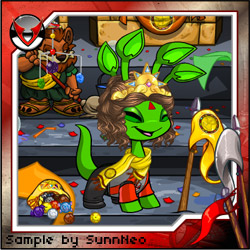 Examples: A cheerleader for Team Support and a Make Some Noise fan for Game Fanatic.