News Archive
For our Wearables Headquarters, we are always looking for previews we are still missing. Now with the recently released Mutant Mayhem Mystery Capsule, a lot of new Mutant exclusive wearables have been released and we still need previews for all of these item. So if you have any of these items and a Mutant Neopet, please come over to out modelling page and help us by modelling them.
Other wearable previews we are still looking for are many of the Charity Corner NC prices, and many of the recent and less recent neopoint single species items. You can also have a look at our Needed items page to see what other wearables we still need previews for.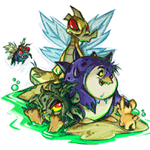 Calling all Mutants! Get ready to model for a world that hates and fears you!