News Archive
A new event in celebration of Neopets' 20th Birthday has been launched: Hannah and the Lost Time Capsules. Help Hannah and Kanrik solve the clues that will lead you to the time capsules scattered around Neopia.
Each time capsule will reward you with an exclusive item. To read the clues, click on the scroll on the event page. If you need help with the riddles you can use the following links to find the locations: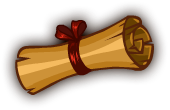 A trip down memory lane...