News Archive
Vandagyre can now be painted Royal. Please read below regarding modeling for us.
---
A couple days ago, Neopets forced password resets in efforts to help keep users safe from the latest breach. Sadly this has left some users locked out of their accounts. We know it is a stressful time, and recommend patience as they sift through the tickets to help users get back into accounts.

Along with this, Neopets has removed insecure pages that aren't 'https' and along with it Flash pages on any browsers. This has, in turn, sadly broken our Modeler page. We are doing our best to get it fixed. In the mean time, if you are able to Model any of our missing PNGs, you can neomail Jujipup with the images, or let us know which pet is wearing that item and only that item and we can grab the PNG if you need. Another thought, if you can model multiples, if you have a free petpage, you can put them up on a petpage and neomail us the petpage to find them on. We greatly appreciate all the help we've received so far and hope to continue to have your support.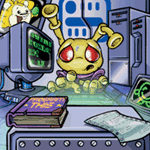 The push we needed to fix our most complex and outdated page!